Charles Bukowski's poems put into songs for the first time.
Performed and composed by Kristin Asbjørnsen
"Best soundtrack of the year" (Winner of the Kanon-pris – Norwegian film Award 2006)
Film Music: Factotum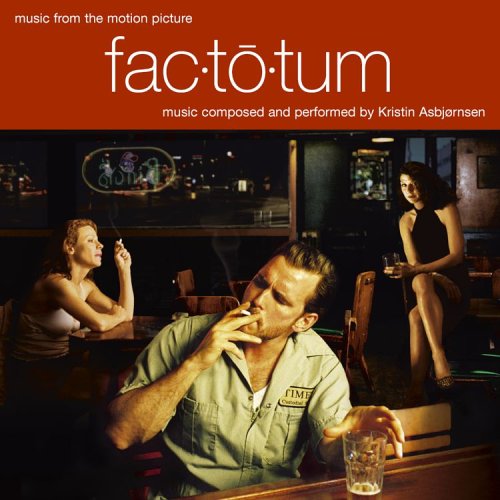 In 2005 Kristin made her international debut as a Film Score Composer for the American movie "Factotum", based on a novel by Charles Bukowski (Bent Hamer /Jim Stark Prod).
The film and the soundtrack and soundtrack album received a lot of international acclaim and "Factotum" was selected for the Cannes Film Festival.
Kristin's soundtrack album was released on the French/Am label Milan Records.
Download Kristins biography here
Soundtrack Reviews
«Bent Hamer has commissioned a terrific musical score from Kristin Asbjornsen, who has set a few of Bukowski's poems to haunting, jazzy music.» (Washington Post)
"She will go far if she keeps performing like this and I look forward to her solo album. I would recommend this to everyone. Though it is hard for foreigners to become music sensations in America, I think Asbjornsen will be the next big thing. No one should be without this wonderful CD" (TheCelebrityCafe, USA)
« […] the good news for music fans is the important larger discovery of the incredibly diverse and captivating Scandinavian jazz composer and vocalist Kristin Asbjornsen. Even without images, the soundtrack functions quite well by itself as a haunting, complex atmospheric work with varied moods and instrumentation.»  ( Billboard, USA)
"I have no reservations to recommend this original jazz-pop hybrid score that showcases not only Asbjørnsen's breath-taking vocals, but her undeniable talent as musician." (Scoretrack.net)
«Kristin Asbjørnsen's music is beautiful, with sentimental waltz tunes and hoarse songs that perfectly convey the essence of the film: 'It's just a slow day moving into a slow night …'.» (Dagbladet)
«Kristin Asbjørnsen's magical, sad and poignant music imbues the film's poetic moments with significance.» (Gudbrandsdølen Dagningen)
«Kristin Asbjørnsen's excellent score is perfectly in the spirit of Bukowski.» (Vårt Land)
«The production team is mostly American, but two key contributions apart from the direction are Norwegian: John Christian Rosenlund's cinematography, which fits the film's laid-back pace, and Kristin Asbjørnsen's beautiful, hoarse and sparse music and vocals, that set the tone and contribute to the film's lingering hold on the audience.» (Dagsavisen)
«.. still more touching is the fate of the vulnerable Jan, played by Lili Taylor, the victim of a society where she is unable to fit in. The portrayal is a perfect match for the music, Dadafon singer Kristin Asbjørnsen's poignant contribution to the film's bitter undertones.» (Adresseavisen)
Links
Factotum DVD
Listen on Spotify
Listen on Tidal
Listen on Apple Music / iTunes