The night shines like the day
2009 Universal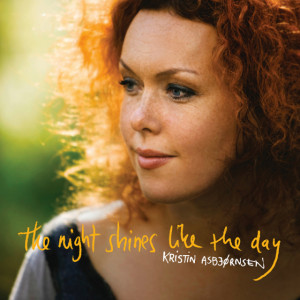 About the album
2009/2010 saw the release of Kristin's new enchanting solo album: "The night shines like the day". This is the first album totally based on Kristin's own lyrics and music.
The music is a powerful, mesmerizing beautiful exploration; quiet and intense, with an incredibly strong awareness in the way Kristin is approaching the songs. It's soulful music that flows, touchingly grounded in Kristin's unique voice.
Kristin Asbjørnsen – vocals
Tord Gustavsen – piano and fender rhodes
Olav Torget – konting and guitars
Svante Henryson – cello and electric bass
Knut Aalefjær – percussion
Jostein Ansnes – vocals, lap steel and additional guitars
Sizwe Magwaza – vocals
Nils Petter Molvaer – Trumpet on "Moment"
Produced by Jostein Ansnes.
This album is all about loss and belonging – a journey of hope, embrace and transforming moments of life.
Kristin wrote the songs at the piano; but along the way the music developed within a haunting and distinctive ensemble sound, where West-African guitars blend creatively with the cello and piano. The arrangements are coloured by Kristin's interpretations of African American spirituals on the critically acclaimed album 'Wayfaring Stranger', as well as her long term duo work with Tord Gustavsen. And they show traces of old gospel hymns and the West African danceable approach.
Kristin says:
"I invited some of the musicians that have been very important to me during the past years. I feel humble and I am touched by the way they have approached my songs, with such powerful musical performances and with so much beauty."
These arrangements are so finely tuned and rich in texture, with an exceptional playful interaction between the musicians. Still the music – tender and somber expressions – maintains the simplicity and the warm intimacy from where the songs were born.
"The night shines like the day" carries strong imprints of love.
The longing to embrace and being embraced.
"It has been a long journey since these songs started to grow in me. Working with the music has been both comforting and challenging. When everything falls apart and there seems to be no way out, we sometimes experience a glimpse of hope entering the darkness, that creates contours of a new view and new directions – expressed in the title of the album: "The night shines like the day". Creating these songs has been a process gradually grounded in a strong hope and belief that something broken can be turned into beauty."