Kristin Asbjørnsen
Singer and songwriter Kristin Asbjørnsen is one of the most distinguished artists on the vibrating extended music scene in Norway. Over the last decade, she has received overwhelming international response from critics and the public alike for her personal and unique musical expression.
These days Kristin is recording her new solo album «Traces of You», to be released January 2018. In 2015 Kristin was commissioned by Global Oslo Music to compose new songs, the work named «Traces of you» premiered at Caféteatret in Oslo, March, 2016 followed by extensive touring.
Kristin's enchanting and critically acclaimed solo-album "I'll meet you in the morning" (Emarcy/Universal Music 2013/2014) was followed by an extended release tour and festival concerts in Germany, France, Norway, Spain and Austria with Kristin Asbjørnsen Ensemble. The music affectionately reveals her enduring passion for African American spirituals as well as her own compositions.
During 2017 Kristin will continue to perform in Europe, in different duo, trio and quartet formats; combining songs from her latest album with her earlier work "The night shines like the day" and "Wayfaring stranger" as well as introducing new songs.
This is a great opportunity to experience the best of the best from this outstanding Norwegian singer!
Recent news
Concert at Modum Bad
Published November 2, 2017
8th November Kristin will have a concert at Modum Bad (Festsalen), Vikersund, performing songs from her upcoming album «Traces of You» (to be released February 2018).
The concert will be the first trio collaboration with kora player Suntou Susso from Gambia/England and guitarist Olav Torget.
Autumn gigs in Norway
Published October 26, 2017
The upcoming weeks Kristin will perform gigs in Norway with her different line-ups and repertoire.
28th October Kristin Asbjørnsen Quartet performs as part of JazzFest in Molde (Teatret Vårt). 8th November Kristin plays at Modum Bad (Festsalen) with guitarist Olav Torget and kora player Suntou Susso, performing Kristin's compositions from her upcoming album «Traces of You».
Kristin Asbjørnsen Trio (Olav Torget/Gjermund Silset) will perform at Skoklefall Kirke in Nesodden (11th Nov) and Galleri Fjellsol in Ringsaker (12th Nov), where the music affectionately reveals Kristin's enduring passion for African American spirituals.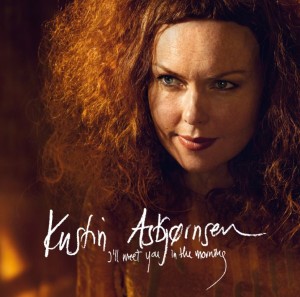 Stärke sanger om frihet
Adresseavisa, om Åpningskonserten Moldejazz
Upcoming concerts
16th February
Tonne Jazz club, Dresden - Germany
Kristin Asbjørnsen with Olav Torget (guitars) and Suntou Susso (kora, vocals)
17th February
Göppingen - Germany
Kristin Asbjørnsen with Olav Torget (guitars) and Suntou Susso (kora, vocals)
18th February
Kultur I'm Esel,, Einbeck - Germany
Kristin Asbjørnsen with Olav Torget (guitars) and Suntou Susso (kora, vocals)