Kristin Asbjørnsen
Singer and songwriter Kristin Asbjørnsen is one of the most distinguished artists on the vibrating extended music scene in Norway. Over the last decade, she has received overwhelming international response from critics and the public alike for her personal and unique musical expression.
Spring 2016 saw a new, captivating collaboration between Kristin Asbjørnsen, the Senegalese kora player Ablaye Cissoko and the Norwegian guitarist Olav Torget. Kristin was invited by Global Oslo Music to compose new songs, and the commissioned work called «Traces of you» was performed at Caféteatret in Oslo, spring 2016, followed by the festival Olavsfestdagene in Trondheim i August. More concerts coming up, including Bølgen Kulturhus in Larvik, 29th September and Oslo World Festival (Riksscenen) 3rd November.
Kristin's enchanting and critically acclaimed solo-album "I'll meet you in the morning" (Emarcy/Universal Music 2013/2014) was followed by an extended release tour and festival concerts in Germany, France, Norway, Spain and Austria with Kristin Asbjørnsen Ensemble. The music affectionately reveals her enduring passion for African American spirituals as well as her own compositions. During 2016 Kristin will continue to perform in Europe, in different duo, trio and quartet formats; combining songs from her latest album with her earlier work "The night shines like the day" and "Wayfaring stranger" as well as introducing new songs.
This is a great opportunity to experience the best of the best from this outstanding Norwegian singer!
Recent news
Traces of You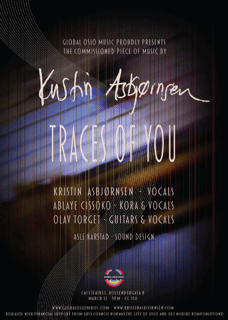 Read more about the project here
Kristin Asbjørnsen Quartet to Kristiansand and Zurich
Published October 6, 2016
Kristin Asbjørnsen Quartet performs at Blå Torsdag – Blå Kors, Kristiansand 13th October and at Moods in Zurich 15th October.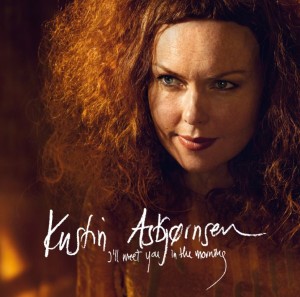 Kristin Asbjørnsens spiritual-tolkninger og zuluenes vokaltradisjon ble ett. Kristin Asbjørnsen er en markant og usedvanlig mangefasettert sanger og komponist. Med en rå og samtidig mjuk og varm stemme, opererer hun innen eksperimenterende elektronika, pop, verdensmusikk og jazz med samme selvfølgelighet, i ulike grupper i flere tiår. En rød tråd i hennes arbeid har vært arrangement og formidling av afroamerikanske spirituals, som hun arvet et knippe av fra Ruth Reese i 1990.. En annen perle, av stillere slag, var «Shine». Med nydelig intro av strykebass, fulgt av skjør gitarklang, sang Kristin om håpet om gjensyn så vakkert og intenst nærværende som bare hun kan.
En sterk og gripende start på årets Moldejazz.
Romsdals Budstikke